Our concert presentation, "Four Seasons of China: Highlights of Traditional Chinese Music" was on Saturday November 7, 2015, 7:30PM at Clark Center.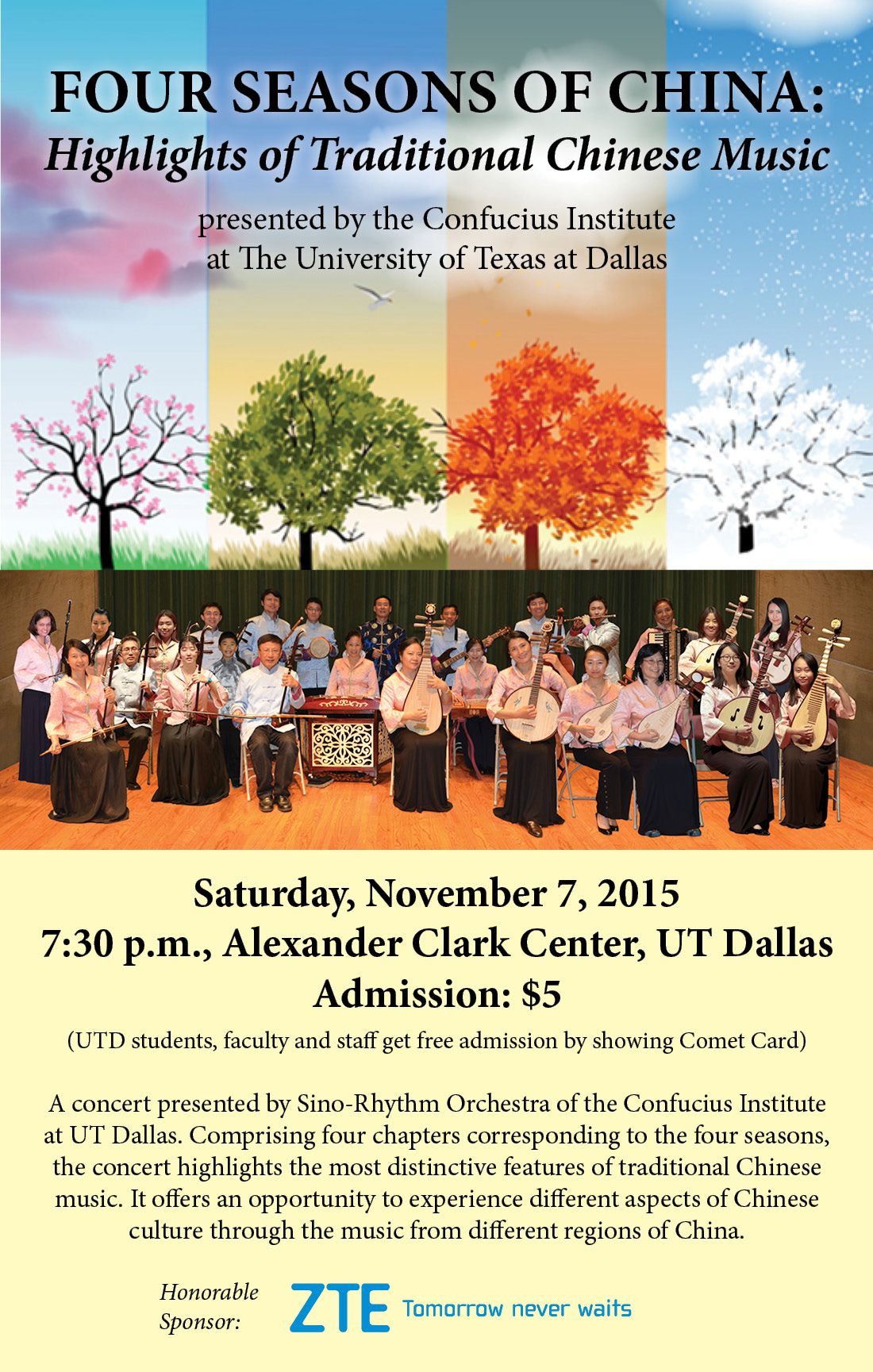 Videos from the concert can be seen on this playlist on YouTube.
Director/Conductor: James Wang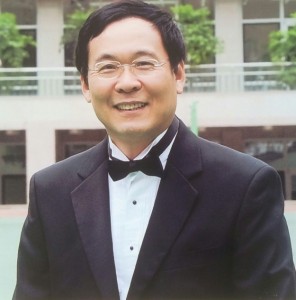 A telecom engineer and UTD alumnus, Wang is skilled at various instruments including clarinet, cello, guitar, and bass. He has served as the conductor of Dallas Huayun Chinese Orchestra since 2014 and is widely acclaimed for the improvement that he has contributed to the ensemble. In early 2015, Wang was elected as the director of Huayun Chinese Orchestra.
Pipa Soloist: Yuxin Mei (Guest Performer)
Holding a B.A. from China Conservatory of Music and an M.A. from Xinghai Conservatory of Music, Mei is currently a Ph.D. student of Ethnomusicology at University of North Texas. Her career in China features soloist and Art Director of Zhuhai Chinese Music Chamber Orchestra (1997–2006) and faculty member of Xinghai Conservatory of Music (2009–2012). Recognized as one of the most brilliant pipa players of her generation, Mei gives concerts and master classes throughout China, France, Germany, Norway, Portugal, Singapore, and the United States. Her personal website: (http://meiyuxinmay.wix.com/yuxinmeimusicworld)

Guzheng Soloist: Anita Hu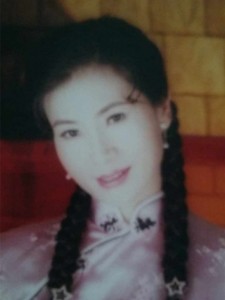 A graduate of School of Music at Nanjing Normal University, Hu excels at playing multiple Chinese instruments especially the Guzheng and the Sheng. Before coming to the United States in 1985, she took part in the Jiangsu Province Kun Opera Theater, where she gained intensive experience in musical ensemble. Having studied music education at UNT, Hu has dedicated herself to teaching Chinese instruments and promoting Chinese culture in the DFW area for three decades.
Soprano: Sophia Liu (Guest Performer)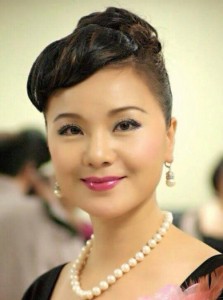 Educated at Wuhan Conservatory of Music and China Conservatory of Music, Liu is an award-winning soprano who used to serve in Hubei Opera & Dance Drama Theater and China Coal Mine Art Troupe. In her music career, she has appeared in numerous CCTV galas and has performed in prestigious venues such as Lincoln Center, Kodak Theater, and Great Hall of the People in Beijing.
Art Advisor: Wen Wu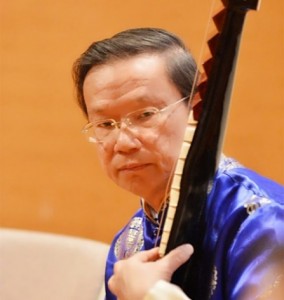 Pipa Soloist: Genny Zhang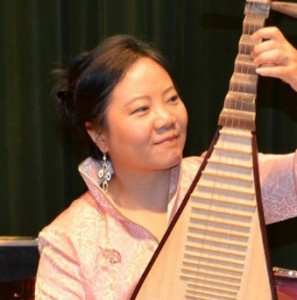 Medium Ruan Soloist: HuiZhu Chen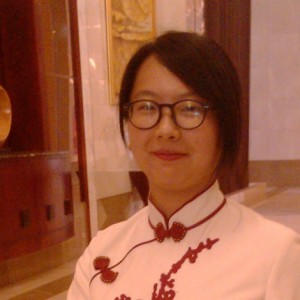 Program
春 Spring:
1, 花好月圆  Blooming Flowers under the Full Moon
2, 绿岛小夜曲  Green Island Serenade
3, 洗衣歌  Tibetan Dance
4, 金蛇狂舞  Dance of the Golden Snake
夏 Summer:
5, 荷塘月色  Moonlight over the Lotus Pond
6, 太湖美  Scenic Tai Lake
7, 奔驰在千里草原  Galloping in the Boundless Grassland
8, 火把节之夜  Night of the Torch Festival
秋 Autumn:
9, 彝族舞曲  Yi Dance
10, 丝路驼铃  Camel Bell along the Silk Road
11, 送我一支玫瑰花  Send Me a Rose
12, 平湖秋月  Autumn Moon over the Placid Lake
冬 Winter:
13, 阳春白雪  White Snow before a Sunny Spring
14, 京调  Beijing Opera Melody
15, 赶牲灵  Herding the Flock
16, 好日子  Auspicious Day